Higher level teaching
Principal Trent Duckett shares that for him, educating is a blessing at St. John's Lutheran School in Mattoon, Illinois. His school's expectations are just as stringent as public schools and often more so. Duckett noted that using Nancy Larson Science since 2013 has elevated their science program to meet this high expectation. They started with Science 4 and then quickly expanded the program to K-4, as well as field testing Science 5. Principal Duckett says, "Nancy Larson Science is definitely on top of things, matching up with the NGSS science standards and integrating nicely into our school curriculum."
"The students are learning important vocabulary terms, are engaged by the lessons, and excited about the experiments and small projects they do in class," praised Duckett.
"Sometimes I sub in the classroom, and it is very easy to teach as a substitute. I've been very impressed when teaching it myself," said Principal Duckett. "This curriculum allows my teachers to teach their students at a very high level."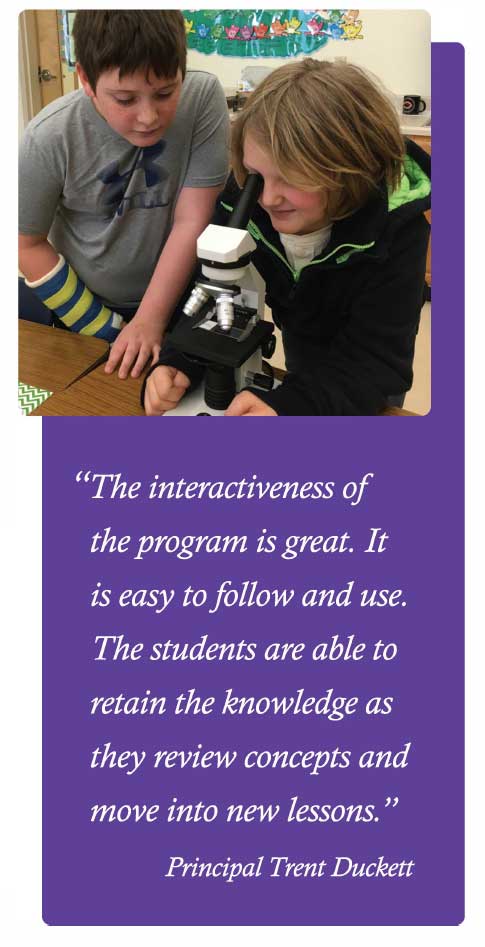 Students more confident than ever
Fifth grade teacher Elizabeth Ramsey says, "Our kids are learning how to study in science, and they are applying these skills to other subjects. They know how to look for main ideas and how to highlight passages for important information. What I also see is that the topics and the vocabulary words they are learning are what their siblings are learning in high school. This gives them confidence and they are now saying 'Look what I can do!"'
Using vocabulary correctly
Mrs. Ramsey also noted that the students are using the proper scientific language. "They say 'the transfer of electrons,' which they would never have said before they had this program. The vocabulary is much harder than anything I thought they would be learning in the fifth grade, and I like that they know how to use it correctly."
Teaching to all learning modalities
Fourth grade teacher Kallie Harris was the first to get her hands on Nancy Larson Science and has been teaching it the longest. She is most impressed with how the program is designed, teaching with all learning modalities in mind. "I love that it is so hands-on," Harris said. "We are reading, writing, highlighting and drawing. All learning styles are being touched on in every single lesson. Kinesthetic learners benefit from the hands-on projects, visual learners enjoy the great pictures and slideshows, and the teacher script provides a science conversation for the auditory learners. I also love the student booklets that they write in."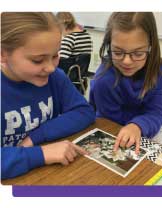 Girls excited about science
Mrs. Harris explained that this program is changing the perception of science in her classroom. "You've always heard that math and science are for boys and this definitely takes that idea and changes it. The girls are asking amazing questions about science when we are not even in class. They think about it throughout the day and are applying it. This is wonderful to see."