Nancy Larson, author of the nationally successful Nancy Larson® Science K–5, has been dedicated to education for more than 30 years. She works closely with classroom teachers across the United States to create developmentally appropriate and content-rich materials that are easy to teach. She also authored the Saxon Math K–4 programs in the 90s. The success of this math program led to her being recognized as an expert in education based on the results of a national study done by What Works Clearinghouse and the United States Department of Education. This study showed that Larson's methodology used throughout the curriculum was proven to be the most effective design for learning. Her program has continued to be used successfully to this day. Larson's methodology of incremental development and continual review focuses on building a strong foundation by developing background knowledge that makes it easier for children to understand, learn, and retain new concepts. Learning in this way lasts far beyond standardized testing.
Ms. Larson brings passion and experience to her role as educator, author, and publisher. She started Nancy Larson Publishers in 2004 with the goal of providing engaging and challenging programs in content areas beyond mathematics. Many elementary teachers repeatedly asked her to write science so this was a natural next step. Years of development and field-testing go into each program before it is released. The current programs available are Nancy Larson® Science K, 1, 2, 3, 4, and 5 for elementary school.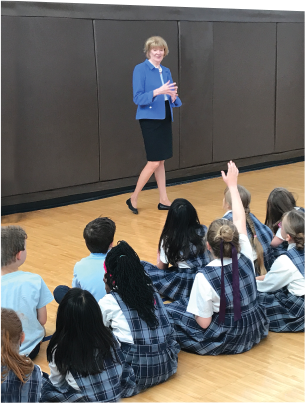 In addition to being an author, Larson taught mathematics at the middle school and high school levels, was a K–12 District Mathematics Coordinator, instructed at the graduate level, served as a District Title 1 Director, and consulted as an expert reviewer for several publications. She works with teachers all over the country and presents workshops on the national, regional, state, and local levels. Larson earned her bachelor's degree in mathematics and elementary education and a master's degree in special education. She is a certified professional educator and has a Sixth Year Certificate of Advanced Study in Administration and Supervision. She is an active member of the National Council of Teachers of Mathematics (NCTM) and has been a guest speaker at the NCTM conference. She also is a member of National Science Teachers of America (NSTA).
Nancy's dedication to education and to motivating and inspiring young educators also led her to form the Nancy Larson Foundation in 2006. Ever grateful for her personal success, she is dedicated to giving back in a way that promotes education in America through scholarships for elementary education majors.
Nancy is a Connecticut native and resides in Old Lyme, CT with her two cats, Daisy and Maisy.
Nancy is available for speaking engagements and workshops.