Scientifically Based Research Supporting Nancy Larson® Science
By Glennie Buckly, Ed.D
Educational Consultant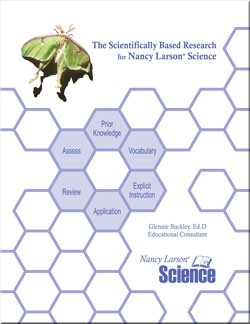 Textbook selection is a key element in providing sound instruction for students in any discipline. When considering the role science plays in our lives today, textbook selection and appropriate instruction is clearly imperative (Hayes, Wolfer, & Wolfe, 1996; Jager-Adams, 2009). According to Pappas (2006, p. 229), "the books used in science instruction do matter. They are significant for literacy and for science." In the American School Board Journal, Jones (2000) wrote about the problem of the "glitz" and "razzle dazzle" in many science textbooks. Nancy Larson® Science provides authentic informational text that is organized logically and is designed to provide science instruction in a clear format that is uncluttered with information and illustrations that are irrelevant to or actually hinder students' learning.
Nancy Larson® Science builds the foundation students need to become knowledgeable consumers and producers of science in the 21st century. The program is grounded in appropriate pedagogy. Lessons at every grade level include multiple strategies and activities. As Wellington and Osbourne (2001, introduction p. 8) state: "Science education involves a range of ways of communicating (visual, verbal, graphical, symbolic, tactile) and which can be exploited to engage with different learning styles and abilities."
Nancy Larson® Science: An Interwoven Approach to Elementary Science Instruction
By Glennie Buckly, Ed.D
Educational Consultant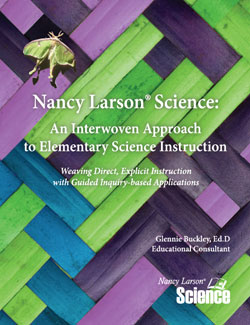 How do elementary teachers ensure that young children internalize the basic science concepts they will learn? Is it from explicit teacher instruction or through inquiry and hands-on activities? Research and journal articles are replete with arguments supporting one or the other: direct/explicit instruction or inquiry learning. Research also supports the idea that both direct/explicit instruction and inquiry learning are important components of science education (Kuhn, 2007; Sun, Mathews & Lane, n.d.).
The purpose of this paper is to advance the concept that effective science instruction that engages young students in their learning about science should include a balance of direct, explicit instruction interwoven with age- appropriate inquiry. Nancy Larson® Science provides an instructional program that is delivered under the direction of a teacher who explicitly guides the novice learner through both direct instruction and hands-on inquiries in a coherent progression so students may gain a deeper understanding of scientific concepts and the nature of science. Archer and Hughes (2011) contend the importance of good teaching is critical to direct instruction and Cobern et al. (2009) conclude that "expertly designed instructional units, sound active-engagement lessons, and good teaching are as important as whether a lesson is cast as inquiry or direct" (p. 11). Nancy Larson® Science lessons are clearly written, are easy to follow, inform the novice teacher regarding science facts and inquiry procedures, and address both direct and inquiry learning.