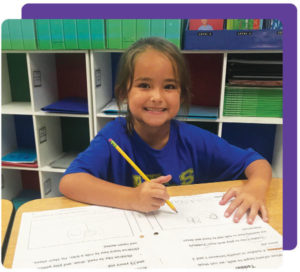 Didn't need to see anything else
Kelly Reilly, Principal of Holy Trinity Lutheran School in Tampa, Florida, appreciates the opportunity to share her school's story about using Nancy Larson Science. "We met Nancy at a district teachers' conference," said Reilly. "Once we looked through Nancy Larson Science and saw the structure and content, we didn't look at anything else-we just went right with it. Nancy Larson Science is so user friendly."
Transforms science time
"Nancy Larson Science has transformed science in our classrooms. Science time is now much more hands-on and interactive, which is one of the best ways that students learn.
They really enjoy taking on their new scientist role with each topic. Whether it's being an ornithologist, a physicist, or an engineer, all bring an exciting adventure to their studies."
Expanded science vocabulary
"We have also seen an expansion of the students' science vocabulary through the use of the word wall cards," said Reilly. "The program is engaging enough that the students take it beyond the classroom and realize this is about them and apply their learning to their lives. They are using their science vocabulary at home. Parents really love this. We also really like the reading support in the program."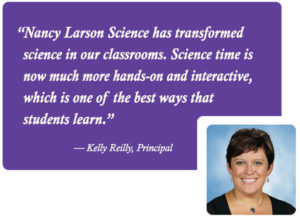 Student engagement high
"The teachers know that they will have every student engaged in science," said Reilly. "It is designed for student success. It easily provides for the auditory, kinesthetic and visual learners. Our teachers are implementing the program the way it is written so we have 100% success on assessments."
"The teachers write out their schedules on the board each day and when the children see science on it, they cheer: 'Yea, it's science day!' It sets the mood for the day."
Easy to use
"It is one of the easiest programs for my teachers to teach," said Reilly. "Nancy Larson Science has been the best. This is one of our teacher's second year and she loves that everything is all there. She says the interactive hands-on pieces get the kids hooked. She loves the tree lesson that shows the biggest tree in the world. Kids love those facts. They think their teacher knows so much and that is so cool!"
"From my teachers' perspective," added Reilly, "the lessons are laid out in a very easy-to-follow format. I feel this lends itself to a more successful transmission of information from teacher to student.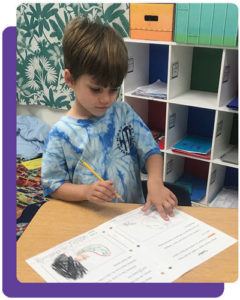 The student booklets are very engaging.
When a student is kept engaged in the learning process, not only is the learning more successful but also the retention of information is more successful."
Applying Knowledge
Principal Reilly said the Science 4 teacher has noticed how her students' science knowledge has grown after several years of using the program. She likes seeing them apply this knowledge. She overheard them talking at lunch, asking each other what kind of energy they were using as they ate. She smiled as her students identified food as potential energy and chewing as kinetic. "The more time students spend with this program, the better their foundation.
They use the vocabulary all the time."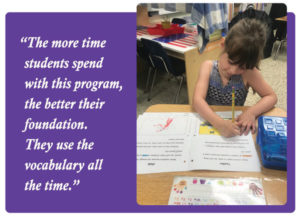 Parents love it
Reilly said, "All of our students seem to love science because of Nancy Larson Science. The students are proud of their booklets, which they take home to their parents to share what they are learning. The parents love that their children are interested in science and are so positive and successful with it. At our STEAM night, students showed their excitement about science. Several of the parents commented that they knew this is due to Nancy Larson Science."
Customer friendly
"We are so blessed to have found Nancy Larson Science and are thankful for the impact it has made on our students," said Reilly. "In addition to the impact it has had on the classroom, Nancy Larson Science has been a great benefit for the staff. Nancy and her team were not only excellent at helping us implement the program from the beginning but have also gone above and beyond each year to help us train new staff. The support staff, customer service and follow-up have been great. We feel very happy and confident with it."