A Great Investment
Joyce Frederiksen, principal at All Saints Catholic School in Wichita, Kansas, enjoys hearing how much her teachers love using Nancy Larson Science. "When I'm investing in a program, I want to know that my teachers love it, and they do," said Principal Frederiksen.
"In our school we appreciate how engaging this program is for our students. I absolutely feel that Nancy Larson Science is getting students ready for upper grades by building a strong foundation. Studies show that any time you have students engaged and doing hands-on activities, you are increasing critical thinking skills and expanding their minds to explore more."
Kindergarten teacher Nancy Hansen says, "It is a program that covers a broad range of topics. The lessons build on one another and the materials are all gathered for you, except for things that can't be in the kit like a plant or water. I find that it integrates very well with the reading and writing that we need to teach as well."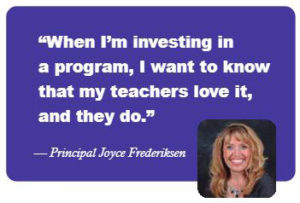 Enjoys Teaching Physics
"We are no longer just brushing the surface of science topics. Before this program, many of us taught the same things over and over. Now even I have been pushed out of my comfort zone and am happily teaching physics!" exclaimed Ann Heise, second grade teacher. "It is really important to teach physics at this age. All of us are teaching different topics now, which really expands what the students are learning. I love how easy it is to teach and how confident I feel teaching it."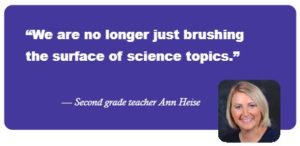 Supports Language Arts
"We are no longer just brushing the surface of science topics. We are going more in depth and the kids learn more. I like how it ties into our English Language Arts, reinforces highlighting, has close reading and develops vocabulary. It is a good strong program," said Ann Heise.
In further discussion about how well it supports reading, fourth grade teacher Christina Theisen explained, "I really like that the student booklets are consumable and the kids can write in them. This is great for kids to develop note-taking strategies. They learn to highlight text and go back and find the answers in the text." She went on to add, "It is also a really great nonfiction reference; the kids really gravitate towards nonfiction, so it is really good."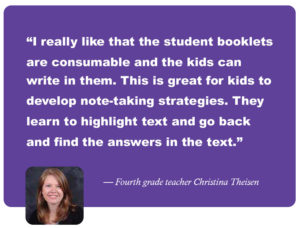 Third grade teacher Jessica Matichek says, "I love the science vocabulary. I hear the kids using it all the time. I know these kids are getting prepared for upper grades. They are learning chemical compounds now and this gives them confidence as they move to higher levels of science. They know they can do it. My bilingual students do great with this program."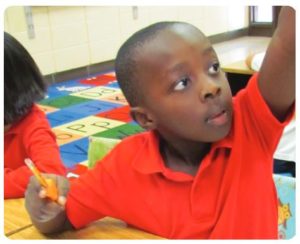 Content Rich, Less Prep Time
Sister Eloise Hertel, fifth grade teacher, likes that the teacher manual has all the information in it that you need to explain the lessons to the students without lots of preparation. "I like best that everything is all there. It is also nice that all of the information is there and exactly how to say it so that the children understand it," explained Sister Eloise.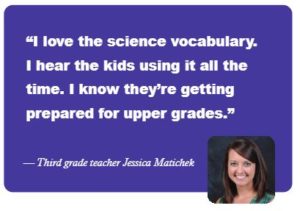 "This program has really boosted students' scientific vocabulary. It has reduced my prep time and I see that they have learned how to do experiments properly and learned this scientific language. It is also great for supporting reading. I love the slideshows too – they just help solidify what students are learning about in each topic," said Sister Eloise.
Multisensory Learning
First grade teacher Diana Weixelman believes this program to be well rounded for her students. "It is hands-on and great for auditory, visual, or kinesthetic learners because it addresses all of the various learning styles. I really like the variety of activities and topics. They learn about so many things and get to discuss them. It is just great," said Miss Weixelman.