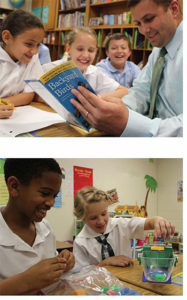 Easy to teach!
Engineered by teachers for your busy classroom. We thought of everything to make teaching science easy! Teachers like you spent over four years perfecting this program to make sure it requires little planning for you, supports reading and vocabulary, and works for students.
It's all here!
From start to finish, we provide everything for you. The Teacher's Manual is written in the unique format of a science conversation to create an interactive classroom. The classroom tool kit has all the items you need to do the hands-on activities and experiments, making your life even easier.
Kids love it!
Children love how much fun it is to have an interactive science classroom. The students use their own student booklets to read, write, highlight, record data, and much more. They invest in this program, are successful, and become little scientists!