St. John Neumann Academy to host author Nancy Larson during Catholic Schools Week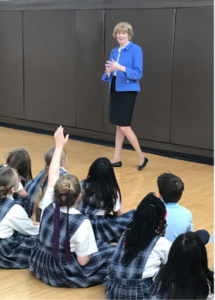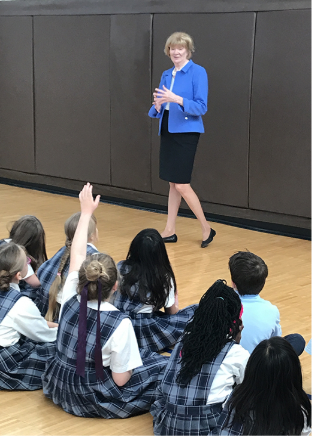 Old Lyme, Conn. – (January 22, 2019) – Nancy Larson, author of Nancy Larson® Science, is heading to Blacksburg, Virginia, to visit St. John Neumann Academy. Julia Wharton, Director of St. John Neumann Academy, invited Nancy Larson to come spend the day with her students. "It is wonderful to have an internationally successful curriculum author come visit our school and to share in our open house during Catholic Schools Week," said Wharton. "It is important to bring in people who show different types of careers that are available to our students. Ms. Larson is a teacher just like all of us, who went on to become an author and publisher. Meeting her and having her here for the day is a unique opportunity for our St. John Neumann family and I really feel that it is important to bring these special opportunities to our students."
Catholic school St. John Neumann Academy values academics and makes it their mission to provide challenging and engaging curriculum for all their students in a faith-centered, respectful, and nurturing environment. "I am very excited to visit the school, meet with the teachers, students and even the parents during their open house," said Larson. "I'll be visiting for the day and it is fun for me to see the students during science time. So much of my time is spent writing that I really enjoy visiting classrooms when I get the chance. St. John Neumann Academy has been using my science program for over six years and it is a pleasure to visit. They have such a great learning environment."
"It is paramount for schools of their caliber to have programs that support their level of academic excellence. Children need programs that engage their curiosity with in-depth, content-rich lessons that exceed the national standards and gives a strong foundation to achieve excellent results in middle and upper grades. It also needs to be fun! We make sure that children engage in hands-on activities to help students retain what they are learning. They become little scientists," said Larson.
Ms. Larson will be there on Wednesday, January 30, 2019 during the school day and open house activities. While she is always busy writing or revising lessons, Nancy finds visiting schools beneficial through interacting with those using the program so that she can continue to improve it. Nancy is always inspired by how excited the children are and how much they have learned using the program.
About Nancy Larson® Science
The goal of Nancy Larson® Science is to be a comprehensive, hands-on science curriculum that is engaging and challenging for children while being fun and easy for teachers to teach. Larson worked closely with classroom teachers and incorporated extensive field-testing to develop a program that provides children with a solid foundation and the skills needed to be successful in their academic futures. Currently Nancy Larson® Science offers Science K–5. To learn more about Nancy Larson® Science, click here.
Media Contact:
LeAnn Harmon
405-206-5165
[email protected]