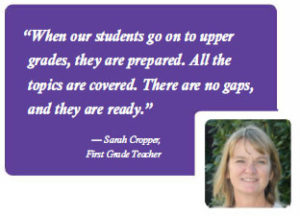 Meets the benchmarks
"When we were looking for a science program five years ago, we focused on having all the state standards and benchmarks met. Nancy Larson Science covered all the benchmarks," says Sarah Cropper, Lead Teacher at Sacred Heart School, Hampton, NH. "We found Nancy Larson Science, and it had everything we wanted for teachers and students."
"The materials and the teacher lessons make it very easy to implement the program. There's no need to hunt for information on topics or other resources. There is no copying required. The materials are included. Everything's there in the program," explained Cropper.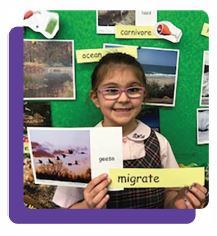 Student engagement
"I love the hands-on activities for the students," said Misty Rowell, Kindergarten teacher. "These activities really engage the students and help them learn and retain the concepts. The lesson is formatted in a conversation, which makes learning science much more comfortable, especially for the younger children. The children know what to expect. They are learning the vocabulary, building background knowledge, and developing a love for science."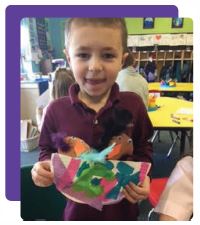 Strong scientific vocabulary
Fourth grade teacher Kara Pidgeon said, "I love the handy resources that come with the Nancy Larson Science program, including vocabulary cards, photo cards, website links, lesson reviews, and tool kit. Parents are surprised by the vocabulary their children are using. The children learn scientific vocabulary, hear it over again, and they're going home using those words. The children are proud of what they are learning."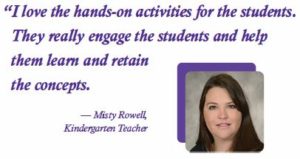 Parents love it
The parents really love this program too.
"Parents really appreciate the Study Guides, especially at the intermediate grades. Everything that's on the Study Guide is the review of what we will be testing. There are no surprises. The Study Guides are a really important part of the program," explained Cropper.
"The parents really like the topics and the work they see in the student booklets. Parents are pleased with the progress the children are making and love what's coming home."
Addresses Learning Styles 
"The research projects bring together different kinds of learning," said Cropper. "These projects help us reach all our children whether through  research, hands-on activities, reading, or completing the student booklets. Students tap into their learning strengths because Nancy Larson Science addresses all learning styles."
Prepared for upper grades
A very important aspect of Nancy Larson Science is preparing students for the upper grades. Cropper explained, "When our students go on to upper grades, they are prepared. All the topics are covered. There are no gaps, and they are ready."