First year using Science 1!
Nancy Larson, founder of Nancy Larson Science, was invited to visit the enthusiastic classrooms led by first grade teachers Kathy Steele and Debbie Hart at San Jose Catholic School in Jacksonville, Florida. This is the first year the veteran teachers used the Science 1 curriculum and both said they appreciated the clear direction of the program and the exceptional kits. With Nancy Larson Science, science is fun!
Nancy was overjoyed when the students surprised her by opening their booklets to show her their drawings. "I was impressed with the quality of the children's work. The children were very excited to talk about everything they learned about insects," Larson said.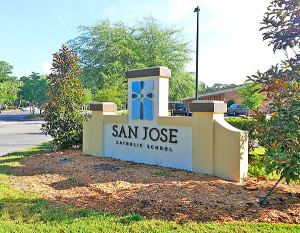 "Mrs. Steele and Mrs. Hart have done an outstanding job this year," Larson noted. "It is heartwarming to visit with students who are excited about science. I really look forward to seeing them again in the future."
Nancy would like to thank Principal Brian Wheeler for his hospitality, and Tim Van Winkle, Nancy Larson Science educational consultant, for his continued expertise and support.