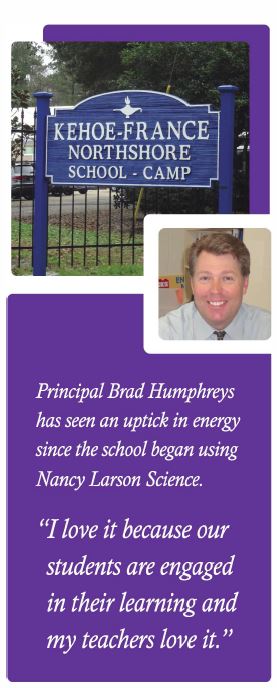 A reputation for excellence
The Kehoe-France Schools in Louisiana have a reputation for excellence. Brad Humphreys, principal of Kehoe-France Northshore in Covington, understands the inherent pressures of academic success. The consistent goal to foster an outstanding learning environment where students are prepared for future endeavors is one of the reasons he appreciates the rigor of Nancy Larson Science.
"Nancy Larson Science is a great starting point for our new teachers, and it provides a good reference point for veteran teachers." Humphreys appreciates when he gets compliments from parents about the science program, the instructional content and the hands-on activities.
Lifelong learning with Nancy Larson Science
Lifelong learning starts with wanting to learn. First grade teacher Susie Miller notes that Nancy Larson Science gets her class excited and she credits the program for engaging her students. "The students love the challenging vocabulary. They love science. They're really interested in the human body and in what's inside their bodies."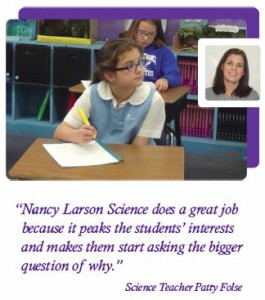 Making connections
Fourth grade and middle school science teacher Patty Folse notes that doing different activities makes science fun for kids. Folse said Nancy Larson Science helps her emphasize reading and mathematics.
"It's very easy to implement and coordinate my lesson plans so that I'm doing cross-curricular activities with the kids and they're making connections over different subjects. It is not just strictly science. They also practice their writing skills and reading comprehension."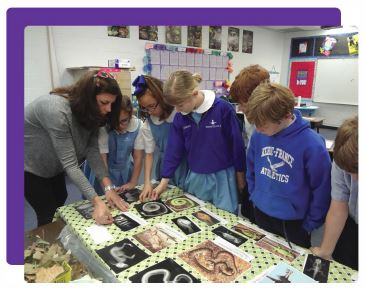 Challenging, but age appropriate
Nancy Larson Science adapts to a student's ability. "It peaks the interest of new science students while also challenging high-performing students to go above and beyond." Folse explains, "Science is about exploring concepts and connecting them to the real world. Nancy Larson has written a program that is very age-appropriate."